People
Director

Hedy Kober, Ph.D.

Dr. Kober received her Ph.D. in Psychology with a focus on Cognitive and Affective Neuroscience from Columbia University in 2009. She is an assistant professor of Psychiatry and Psychology with additional appointments in the Neuroscience and Cognitive Neuroscience programs. She uses a cognitive neuroscience approach (e.g., fMRI, EEG) to investigate the regulation of craving, mindfulness and meditation, and emotion regulation and cognition-emotion interaction more generally.
Research Assistants

Matthew Schafer

Matthew is a full time research assistant in the CAN lab. He received his B.A. in Psychology from William & Mary in 2014. His interests include cognition-emotion interaction, mindfulness and social cognition.

Shosuke Suzuki, B.S.

Shosuke is a full time research assistant in the CAN lab. He graduated from UCLA with a B.S. in Neuroscience in 2014. He is interested in neural mechanisms and clinical implications associated with social cognition and emotion regulation.

Bethany Goodhue

Bethany is a full time research assistant in the CAN lab. She received her B.A. in Psychology from Yale in 2016. Her interests include mindfulness and the regulation of craving, specifically the regulation of food craving in disordered eating populations. She is especially interested in the development of treatments and trainings for individuals struggling with binge eating disorder, and the use of mindfulness in clinical interventions.
Research Scientists

| | | |
| --- | --- | --- |
| | Elise DeVito, Ph.D. | |
NeuroElf

Jochen Weber

Jochen is our brilliant go-to Neuroscience Elf. He primarily works as a senior imaging analyst at the SCN lab at Columbia University, where he continues to develop NeuroElf, a Matlab toolbox for fMRI data analysis and visualization. For us, he brings his all-around elfin magic and special expertise in mathematics, programming and prior work experience to assist with data analysis and visualization. His prior work experience include working in the Core Facility of the Interdisciplinary Center for Clinical Research at the RWTH Aachen in Germany as well as working as a customer support agent for Brain Innovation, the makers of BrainVoyager QX
Postdoctoral Researchers

Ross MacLean, Ph.D.

Ross earned his Ph.D. in Clinical Psychology from Pennsylvania State University in 2015. He is currently an Advanced Fellow in Mental Illness Research, Education, and Clinical Center (MIRECC) at the VA Connecticut Healthcare System and Yale University. His research is focused on identifying neurobiological and behavioral mechanisms involved in the maintenance and treatment of addiction.

David Saunders, M.D., Ph.D.

David Saunders, MD, PhD attended Boston College as an undergraduate, majoring in theology and pre-medical studies. He spent four months living in a Tibetan refugee community in Kathmandu, Nepal, where he studied the history and philosophy of Tibetan Buddhism. After graduating from Boston College in 2007, David returned to the same Tibetan community in Nepal as a Fulbright Scholar, studying Tibetan religio-cultural perceptions of tuberculosis, which confirmed his desire to pursue a PhD in Buddhist studies alongside medical training. From 2008-2015, he obtained his MD at Weill Cornell Medical School (WCMC) and his PhD in Religion at Emory University under John Dunne, with a specific focus on Buddhist meditation theory and the philosophy of mind and self. For the last several years, he has taught mindfulness and compassion-based meditation in various settings—especially enjoying his time with children and teenagers—and is now a clinical fellow in the Albert J. Solnit Integrated Training Program at the Yale Child Study Center, training to become an adult and child psychiatrist.  His current clinical interest is in pediatric psycho-oncology. With regard to research, along with Dr. Kober and others, he is developing and running a clinical trial evaluating Mindfulness-Based ADHD Treatment for Children (MBAT-C), an intervention specifically designed to treat ADHD in 7-11 year old children.

Joseph Taylor, M.D., Ph.D.

Joe earned his MD and PhD in Neuroscience from the Medical University of South Carolina. He is currently a resident physician in the Neuroscience Research Training Program of the Yale Psychiatry Residency Program. Broadly, Joe's research focuses on pairing brain stimulation techniques with brain imaging techniques in order to map and modulate the aberrant neural networks associated with refractory psychiatric and neurological symptoms.
Graduate Students

Rebecca Boswell

Becca is a graduate student in Clinical Psychology in the CAN Lab. She is interested in cognition-emotion interaction and the regulation of food craving in both normative (e.g. dieters, overweight individuals) and clinical (e.g. eating disorders, bariatric surgery) samples. She is currently investigating individual differences in the efficacy and specificity of cognitive reappraisal strategies to regulate craving, with the goal of developing a targeted intervention focused on regulation skills-based training. Broadly, she is interested in the neural bases of decision-making and self-control, with a focus on mechanisms and predictors of change. Before coming to Yale, Becca worked with Todd Heatherton, Dylan Wagner, and Bill Kelley at Dartmouth College.
Undergraduates

Toby Knisely

Toby is a senior CogSci major who graduates in 2017. He's interested in studying addictions, addictive behaviors, and how the subjective effects of marijuana change with age. He took 2014/2015 academic year off to study Mandarin in China, and he loves to play soccer, squash, and eat spicy Chinese food.

Wen Sun

Wendy is a Yale College student (class of 2018) majoring in Neuroscience. She is driven to study the neural correlates, prevention, and treatment of diet-related disease and eating pathology. She is currently leading a neuroimaging study with graduate student Rebecca Boswell and Dr. Kober that takes a computational approach to food choice and regulation of craving. She has also worked with Rebecca and Dr. Kober to investigate the neural and psychological mechanisms behind the regulation of craving for food and emotion, as compared across healthy weight, obese, and binge eating disorder (DSM-5) populations. She aspires to become a physician scientist, combining her love for research and clinical work. Her hobbies include running, writing, and teaching computers to do things.

Raeven Grant

Raeven is a prospective Cognitive Science major in Silliman College (class of 2019). She is currently working on a  meta-analysis to evaluate how much smoking cue reactivity and/or cravings predict smoking outcomes. Broadly, she is interested in mindfulness and the regulation of craving.

Darby Henry

Darby is a Cognitive Science major in Pierson College. As an undergraduate research assistant in the CAN lab, she is helping work on a couple super cool meta-analyses related to the neural mechanisms underlying craving and the significance of craving in addiction. In her free time, she likes to think about how our conceptualizations of criminality influence the way we punish people.

Jonathan Norton

Jonathan is a senior in Calhoun College (class of 2017) and an Eli Whitney Scholar who is majoring in psychology. He is broadly interested in clinical disorders, behavioral addictions, and Cognitive-Behaviorial based therapy for treatment of such disorders. He is currently working with Rebecca Boswell to investigate working memory performance and risk-taking behavior in people with Binge Eating Disorder

Sarah Stein

Sarah is a sophomore (class of 2019) psychology major in Ezra Stiles. At the lab, she's currently working on a meta-analysis that relates cue-induced craving and treatment outcomes. On campus, she works to promote mental health education and sexual health and safety. She loves to travel, read short stories and watch psychological thrillers.

Teddy Thum

Teddy is a junior in Pierson College, double-majoring in Psychology and Ecology & Evolutionary Biology.  As an undergraduate research assistant at the CAN lab, he is working on a meta-analyses investigating craving and the significance of craving in addiction.  He has a wide variety of interests in cognitive neuroscience, including mechanisms of addiction, the functional significance of sleep, and emotion regulation in psychopathology.
Alumni

Maggie Mae Mell

Maggie Mae was a full time research assistant in the CAN lab. She received her B.A. in Psychology from Rutgers University in 2005. She is currently pursuing her PhD in Neuroscience.

Phillip Curtsmith

Phillip Curtsmith was a part time research assistant in the CAN lab. He holds a BA in philosophy and an MS in neuroscience from University of Hartford. He is interested in neuroendocrine influences upon social behavior and within-subjects hormone changes resulting from cognitive therapies.

Aaron Gertler

Aaron Gertler was an undergraduate research assistant in the CAN lab. He graduated in 2015 with a BS in Psychology and/or a BA in Cognitive Science. His main research interests are decision theory and the cognitive self-regulation of anything a person can cognitively self-regulate (cravings, emotions, and the like). He's currently working on a pair of craving-based FMRI meta-analyses alongside Daniel First, hunting for a thesis topic, and exploiting the wisdom of Hedy, Maggie and Cameron with an endless stream of questions. He once carried out a science fair project to test whether music interfered with ESP, and found that it did not.

Lavishka Katwa

Jessica Hallam

Reuben Hendler

Reuben was a full time research assistant in the CAN lab. He received his degree in cognitive science from Calhoun College at Yale in 2014. He is interested in the psychology of living well – how the mind assigns ethical and moral value and produces feelings of meaningfulness and fulfillment. He practices meditation and hopes to study its potential use in cultivating mental habits conducive to human flourishing.  He is also interested in how emotion regulation techniques may be skillfully implemented in light of heuristics for evaluating experience like the "ends-and-peaks" rule. 
Mascots

| | | |
| --- | --- | --- |
| | Bodhi | |
| | Gaia | |
Lab Events
Holiday Rock Climbing
Some members of the CAN Lab decided to get together to go rock climbing. We did one hour of rope climbing with an instructor during the holiday season as a holiday lab outing. It was a challenging and rewarding experience!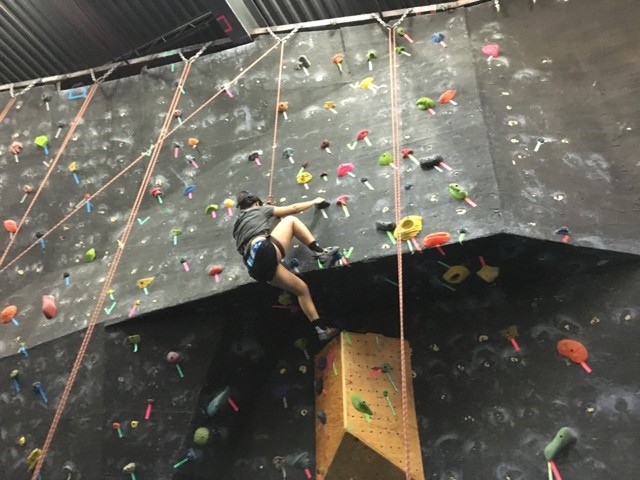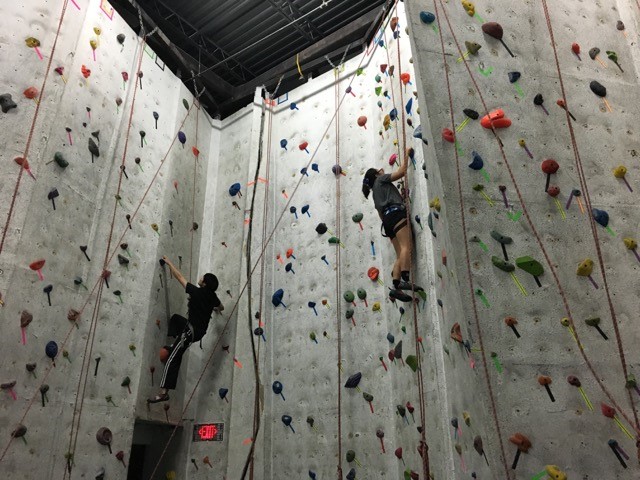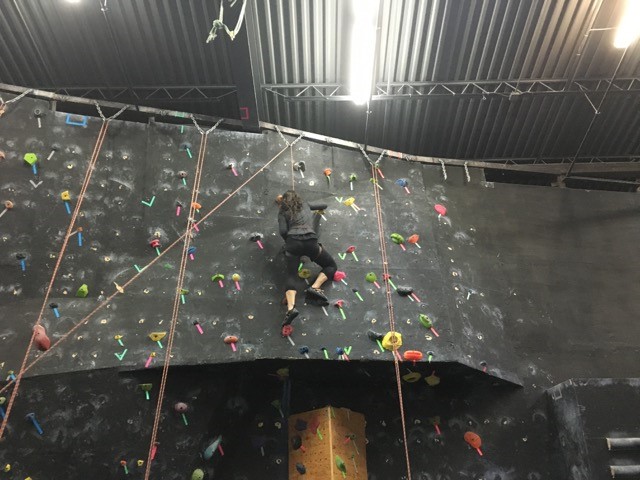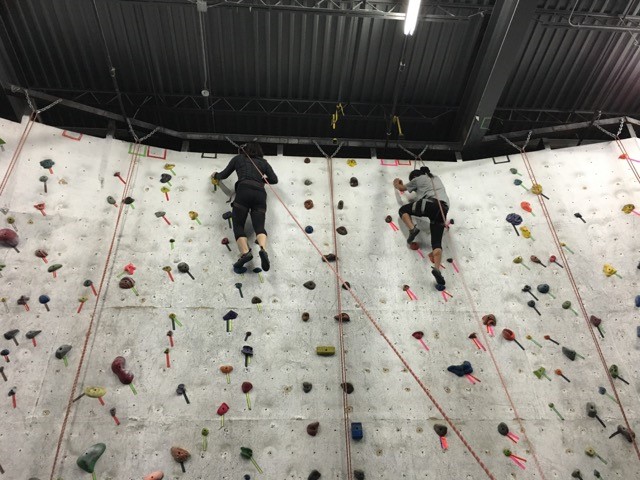 Halloween Fun
Some members of the lab also decided to dress up for Halloween!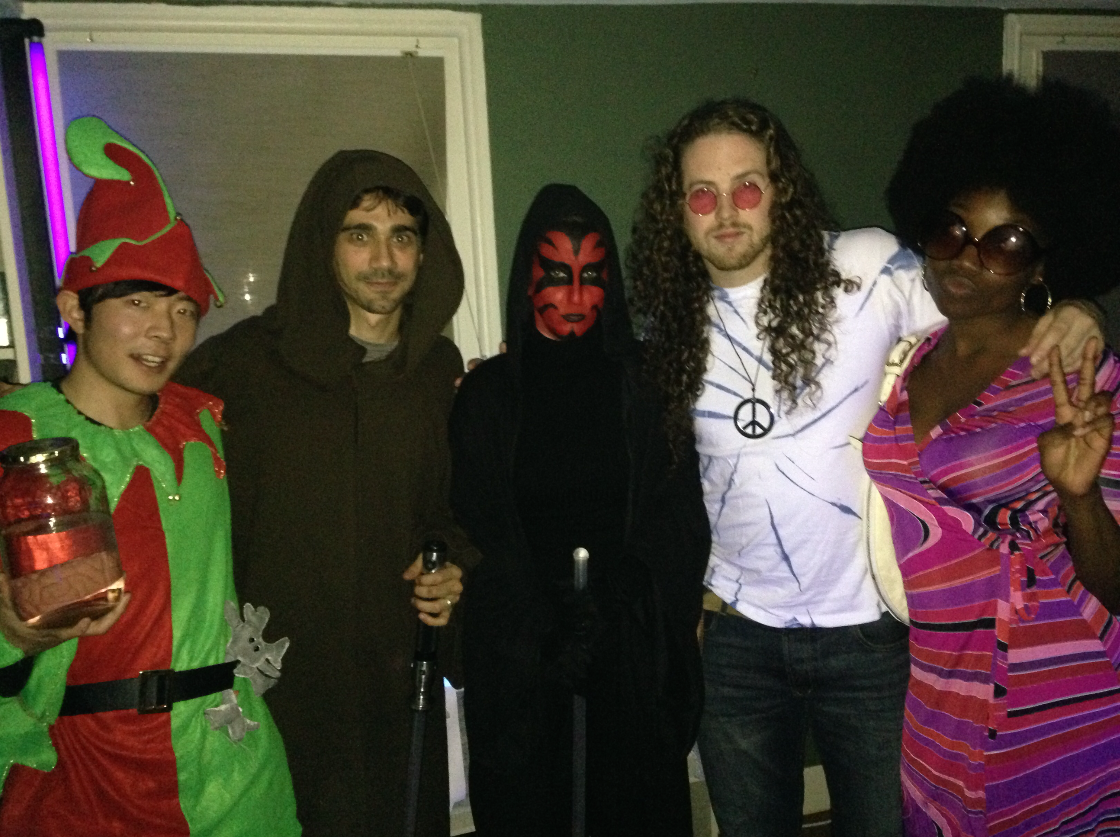 Paint Night Out
Recently the CANLab participated in a Paint Night Out group building activity. Dr. Kober worked with an artist to create a mural that represented the lab. We then each painted a piece of the mural. In order for the pieces to fit, we had to work together on paint color choices and techniques. It was a fun night that helped build our communication and group work skills! Thanks Dr. Kober for the great memories!